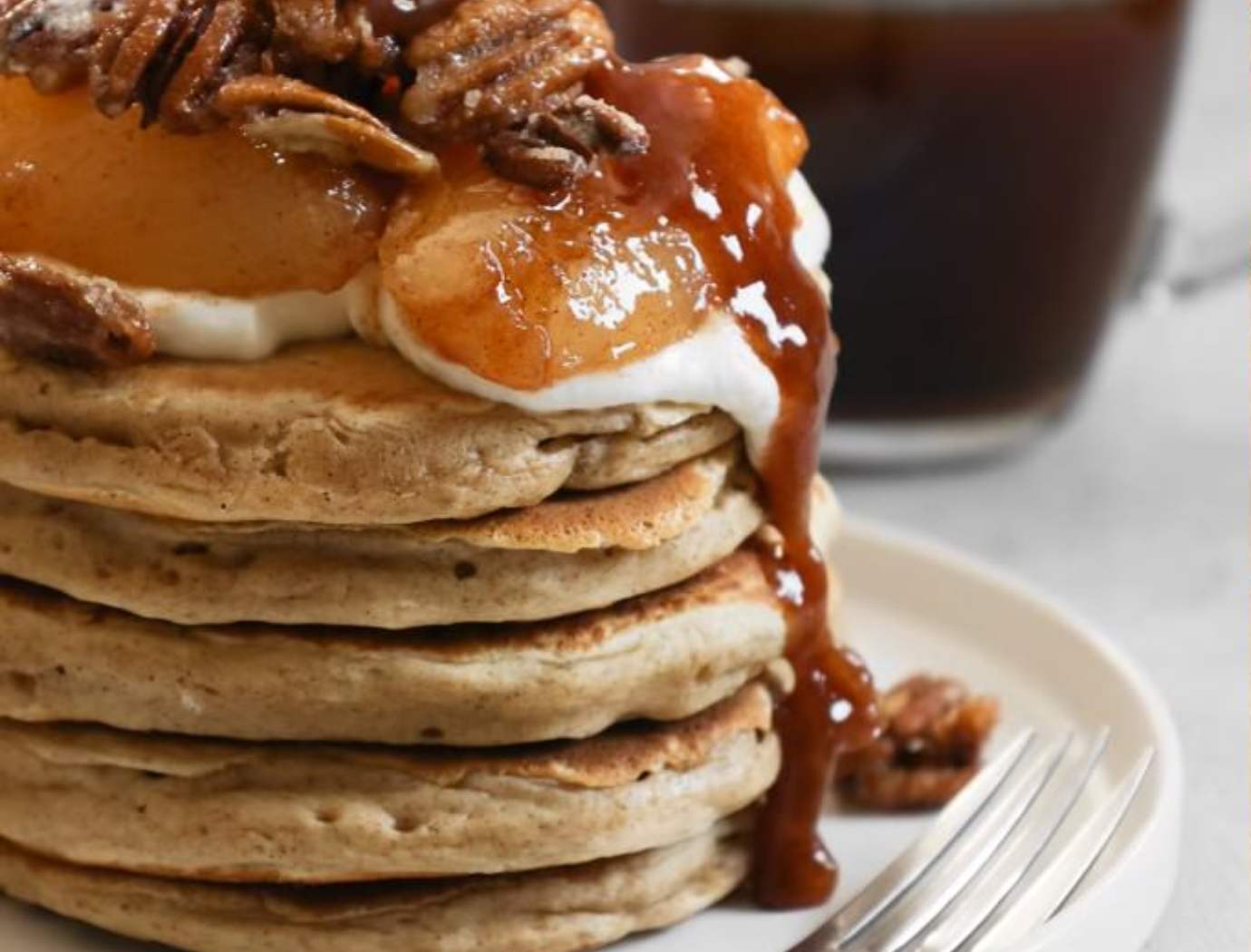 Caramelized pear with candied pecan pancakes
Ingredients
PANCAKE
1 cup all-purpose flour
2 tsp. baking powder
½ tsp. baking soda
Pinch of salt
½ tsp. cinnamon
1 cup *buttermilk
1 tbsp. oil + extra (to ensure pancakes don't stick to the pan)
½ tsp. vanilla
1 egg
CARAMELIZED PEARS
1 (796mL) can Del Monte Pear halves, drained
¼ cup water
½ cup sugar
1 tsp. cinnamon
1 tsp. vanilla
1 tbsp. flour
CANDIED PECANS
1 cup pecans
¼ cup sugar
Pinch of salt
1 tbsp. water
Preparation
PANCAKE
Mix together dry ingredients (flour, baking powder, baking soda, salt, and cinnamon) + wet ingredients (buttermilk, oil, vanilla and egg) in separate bowls then combine. Make sure not to over mix the batter.
Over medium heat, add a tablespoon of oil to a small frying pan.
Once oil is hot, add 2-3 tablespoons of batter at a time. Using the back of a spoon, gently and evenly spread the batter to ensure uniform size/thickness.
Cook pancakes for 1 minute on each side.
Allow pancakes to cool before serving.
*Note: if you do not have buttermilk, you can make your own by combining 1 tbsp vinegar + milk to make up 1 cup.
CARAMELIZED PEARS
To a sauce pan, add water and sugar and bring to a boil over medium heat
Once bubbles start to form, add in pears, cinnamon, vanilla and flour and gently mix to combine ingredients.
Once sauce thickens, remove from element and allow mixture to cool.
CANDIED PECANS
Pre-heat the oven to 350 degrees
In a small bowl, mix together sugar, water and salt to form a paste.
Add pecans to the bowl and continue to mix until ingredients are well combined.
To a lined baking tray, evenly spread coated pecans and bake for about 10 minutes or until pecans are no longer wet.
Remove pecans from baking tray and allow pecans to cool.
Leftover pecans can be stored in an airtight container in the fridge for up to 2 days.