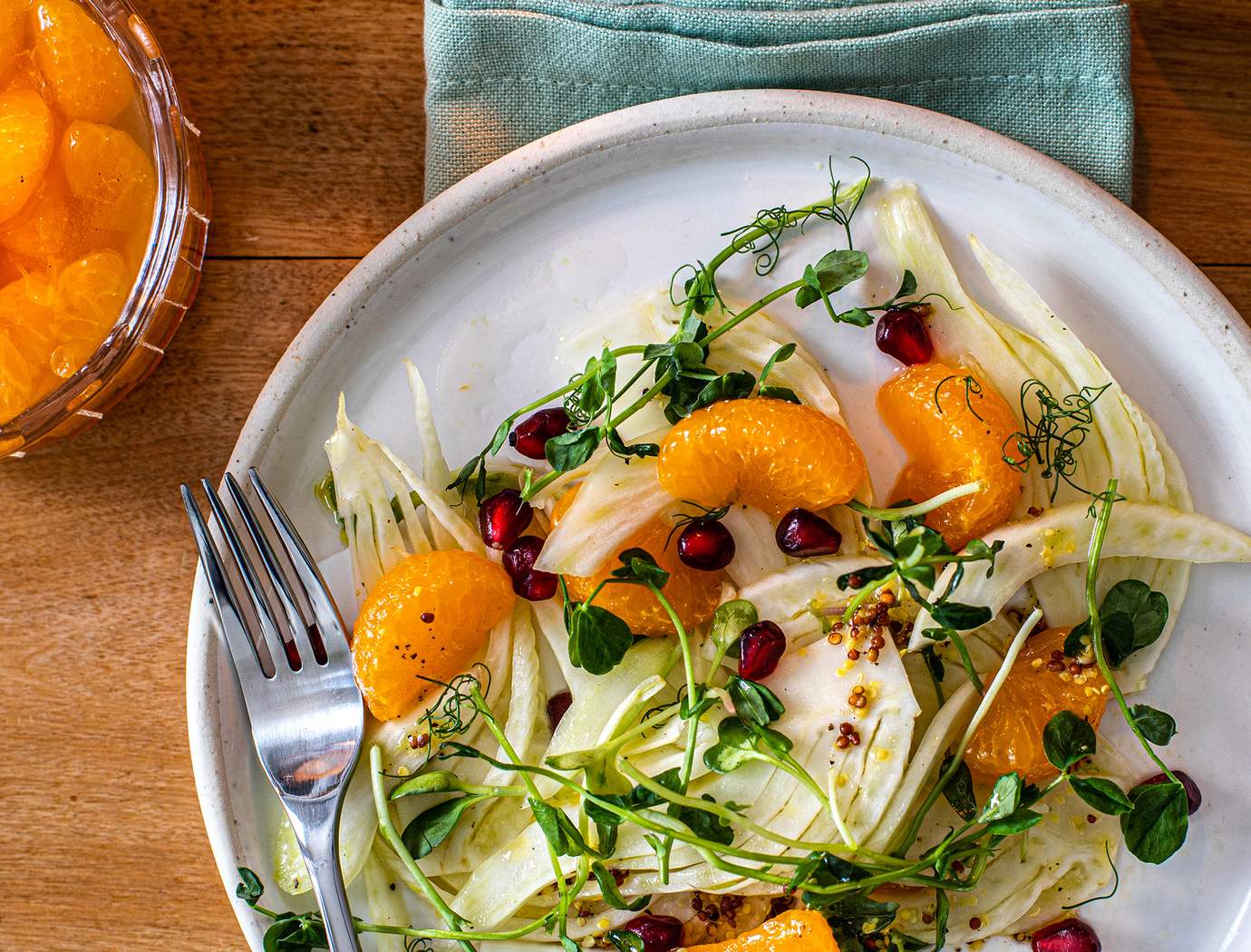 Fennel, mandarin orange and pomegranate salad with whole grain mustard vinaigrette
A fresh salad to serve as a starter with smoked salmon or gravlax or as a side to your main course. Fennel goes wonderfully with citrus and Del Monte mandarin orange segments are the perfect addition. Fast, tasty and crunchy, it's the perfect winter salad.
Ingredients
a medium fennel
¾ cup of Del Monte mandarin oranges with light juice syrup (save the juice!)
½ cup of pomegranate seeds
4 tablespoons of olive oil
juice of half a lemon
a tablespoon of mandarin orange juice syrup
2 teaspoons whole grain mustard
a generous pinch of salt
ground pepper
a full cup of mixed sprouts or arugula
Preparation
Prepare the fennel by removing the green stems. Coarsely chop the greens and set aside as aromatics if desired. Remove brown and damaged parts with a peeler.
Place the bulb on its base and cut in half. Cut each half in half to make 4 quarters.
Cut the tough parts off from the base of each quarter and remove the heart. Finely slice the quarters along the length using a mandolin if you have one.
Reserve ¾ cup of Del Monte mandarin oranges in a small bowl. Keep the juice for desserts or sauces. You'll need some of it for the salad dressing.
For the dressing, cut the pomegranate in half, plunge each half into a large bowl filled with water and loosen the seeds with your hands. The white membrane will float to the surface and the seeds will settle at the bottom of the bowl.
Remove the membrane with a slotted spoon, drain and pat the seeds dry.
Combine all dressing ingredients in a large bowl and adjust seasoning. Add the fennel slices and let marinate for at least 30 minutes in the fridge. Just before serving, add the mandarin orange segments and pomegranate seeds to the bowl and finish by topping generously with sprouts or arugula.