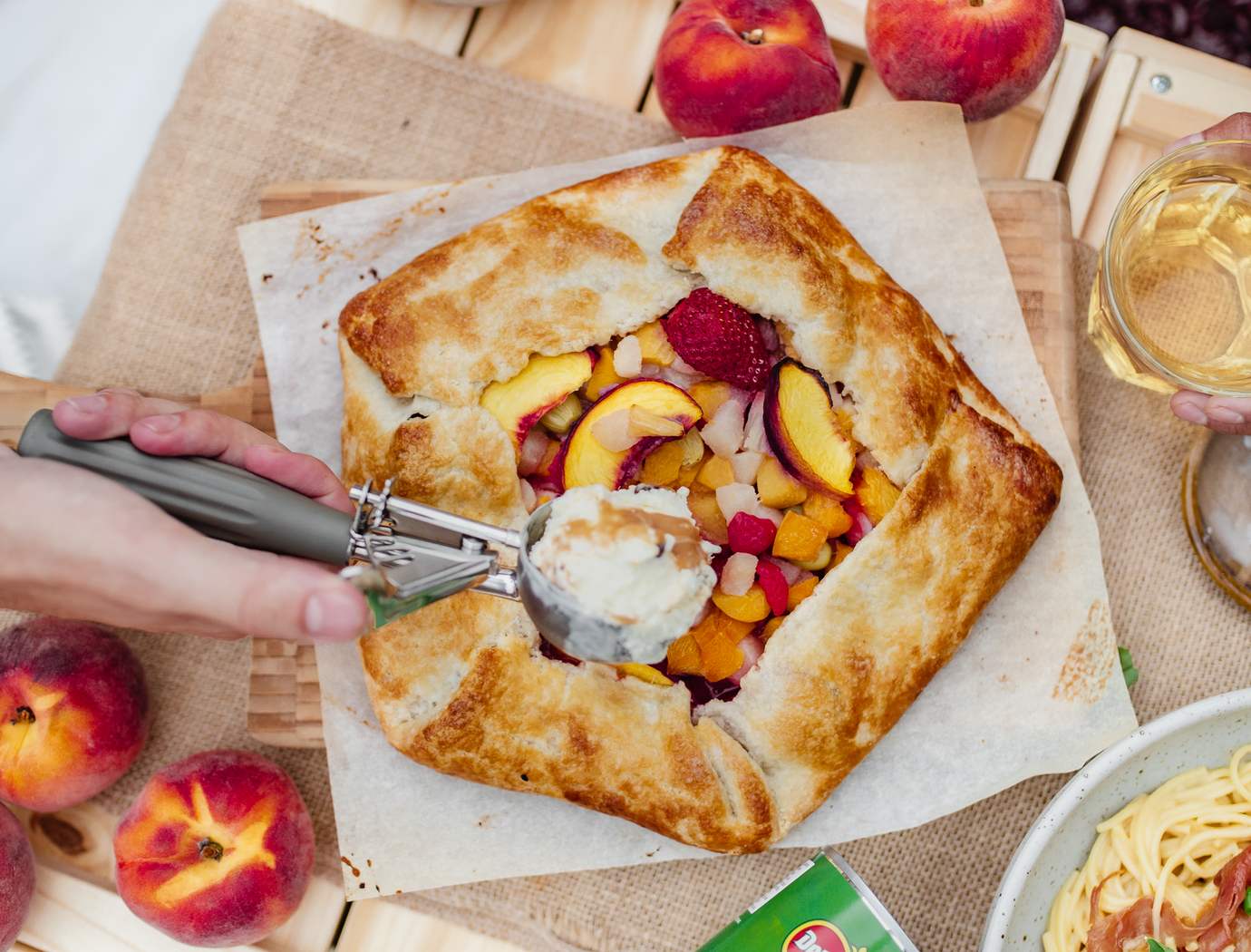 Ingredients
For the crust:
1 ½ cups all purpose flour
1 tbsp. granulated sugar
½ tsp. sea salt
9 tbsp. unsalted butter, cut into cubes
6 tbsp. sour cream
Egg wash (1 large egg beaten with 1 tsp. water)
For the filling:
2-398mL cans of Del Monte Fruit Cocktail
Additional fresh fruit, if desired
¼ cup granulated sugar
2 tsp. fresh lemon juice
2 tbsp cornstarch
⅛ tsp. salt
Preparation
For the crust:
To the bowl of a food processor, add flour, sugar, and sea salt. Pulse to combine. Add butter. Pulse again until dry ingredients have a crumbly texture (about 5 pulses). Add sour cream and pulse again until the mixture begins to clump (about 4-5 pulses). Empty mixture onto a piece of piece of plastic wrap. Fold plastic over and use your hands to gently form into a ball. Flatten into a disc. Do not overwork the dough. Chill dough for 30 minutes in the refrigerator.
For the filling:
While dough is chilling, preheat oven to 400F and prepare fruit filling. Open cans of Del Monte fruit cocktail and drain liquid. Add contents to a mixing bowl along with additional fresh fruit. Add sugar, lemon juice, cornstarch, and salt. Stir to combine well and set aside.
To Assemble the Galette:
Once the dough is chilled, remove plastic wrap and transfer to lightly-floured surface. Roll into a 12-13" circle. Use your rolling pin to wrap the dough and transfer to a baking tray lined with parchment paper. Brush crust with egg wash and set egg wash aside. Stir fruit again and then add to the centre of your crust, leaving a 2" perimeter. Avoid getting liquid from fruits onto the crust. Gently fold crust all the way around and pinch the sides together. Brush the top of the crust with egg wash and sprinkle with sugar. Bake for 35 minutes or until a deep, golden colour and fruit is bubbling. Remove from oven and let cool for 20 minutes. Serve warm with ice cream. Enjoy!